Sick and Hospitalized Pets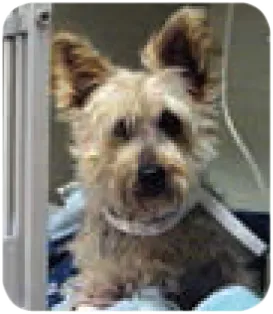 We know your pet feels more at ease with you at home, but sometimes patients need services that can only be performed in the hospital. We strive to keep the length of hospital stays as brief as possible.
While in the hospital, your pet will be in our comfortable general ward. If there is concern of contagious disease, he or she will stay in the isolation ward. Cats are kept comfortable and ambulatory dogs are walked several times a day. A veterinary technician is assigned to monitor each patient, to provide special dietary needs, and to give caring attention.
Ultrasound
Our Pet Care Pharmacy
You can rely on our pharmacy for all of your pet's pharmaceutical needs! Our pharmacy carries a large selection of preventative medications and treatments including flea / tick and heartworm preventives, nutritional supplements, prescription diets, dental care products, skin / coat care products, and more.

Website Pet Resource
It is important to fully understand the nature of your pet's health. Our website is designed as a resource to help you make better decisions about your pet's health and well-being. Our site allows access to our approved online veterinary pharmacy and the veterinary library where you can find information on many topics involving your pet's care
Share the Care! Client Referrals
We value your referrals. When you refer a new client to our practice with a new patient you will receive $10 OFF your next visit. Please ask for details and referral cards.
Ask Us – We Love to Communicate!
WE CARE! We understand the limits of a family budget. PLEASE DO NOT put off your pet's veterinary care as this frequently leads to more serious and expensive health care problems.
Payment and Fees – We make every effort to ensure that all fees are fair and reasonable; clients are always encouraged to discuss fees before proceeding with your pet's treatment plan. It is our policy that payment for all professional services be made at the time performed. We accept cash, debit, M/C, Visa, and Discover. As a service to our clients we also offer CareCredit®, the nation's leading client payment plan (www.carecredit.com). With CareCredit® you can finance 100% of your pet's treatment.
Treatment Plans – We are happy to provide you with a written treatment plan. Please realize that it is sometimes difficult to anticipate an individual pet's treatment needs.
Pet Health Insurance – Insurance can pay a large part of your veterinary bills when your pet gets sick or injured. Several plans are available – to learn more about which plan is best for you please visit Nationwide Pet Insurance at www.petinsurance.com.
Emergency Services
Emergencies, accidents, and illnesses are unfortunate facts of life, but how many of us plan for the unthinkable before it happens? We understand how upsetting it is when your pet is sick or injured. Our veterinarians and technical support staff are on premises working as a team with expertise to respond to emergency and critical care situations. Rest assured, if you ever have an emergency with your pet, there is quality veterinary help nearby. After hours emergencies are referred to Veterinary Emergency Services Of Madison Heights (248) 547-4677.
Mon: 8AM - 5PM
Tue: 8AM - 5PM
Wed and Fri: 8AM - 6PM
Thur: 8AM - 4PM
Sat: 9AM - 5PM

Our Practice Philosophy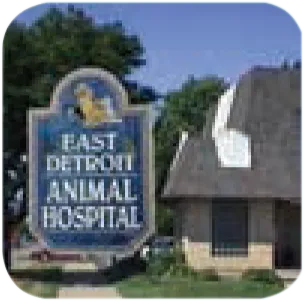 At East Detroit Animal Hospital we are committed to providing comprehensive, quality care for patients to enhance their well being and quality of life. We achieve this by having a compassionate, knowledgeable and professional staff, utilizing the latest technological advances and implementing the foremost medical practices. It is our goal to educate and involve clients in a lifetime health care plan for their special companions.

Your Pet's Caregivers
We work hard to maintain an excellent staff of doctors, receptionists, veterinary technicians, technician assistants, and pet care team members. Our staff is a GREAT team, with the right mix of skills and experience, and has been carefully chosen to provide the best care for your pet.

Individualized Health Plans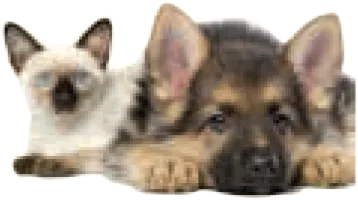 Along with a Comprehensive Physical Examination, your veterinarian will evaluate your pet's age, breed, and lifestyle to determine the risk of potential disease. After discussing your pet's needs, we will design a preventive health care and vaccination plan that is best for your pet.
Feline Friendly
We understand the stress a hospital visit can be for both you and your furry friend. We strive to maintain a relaxed, feline friendly, quiet atmosphere with a loving and caring staff.
Our Progressive Facility
Our progressive facility includes a comfortable reception area, complete surgical and dental facilities, anesthesia monitoring, diagnostic digital radiology, pharmacy, diagnostic laboratory, treatment room, surgical ward, isolation ward, and general medical area.
Complete In-House Laboratory:
Our complete-in-house laboratory gives us rapid results when we are treating sick or injured patients, and allows us to properly evaluate every surgical case prior to anesthesia.
Our Professional Services Include:
Preventative Care
Immunization
Internal Medicine
Nutritional Counseling
Pain Management
Advanced Dental Care
Stocked Pharmacy
Ultrasound
General & Orthopedic Surgery
Digital Radiology
Microchipping
Laboratory Services
Travel Health Certificates
We Love Our Senior Pets
Dogs over the age of seven and cats over the age of nine are seniors and need special attention. They are at risk for the development of cancer, diabetes and other serious medical conditions. Often these conditions come on gradually, and owners cannot detect the ongoing discomfort they may cause. To keep your pet feeling his best and with you as long as possible, we recommend bi-annual exams along with diagnostic testing to screen for common geriatric disorders.
Progressive Dental Care
The number one health problem diagnosed in cats and dogs over 4 years of age is periodontal disease. Dental disease puts stress on your pet's immune system and may lead to serious liver, kidney, and heart disease. We provide an extensive dental care program. When dental services are needed, we use the safest anesthesia available with advanced monitoring, ultrasonic scaling, polishing, sealants, composites, and fluoride treatments.
Delivery Comprehensive Veterinary Care
Surgery – We provide all types of soft tissue and most orthopedic surgical services. If your pet requires surgery, our doctors will make sure that you understand all aspects of the surgery and all options available. Every anesthetized patient is monitored with state-of-theart monitors. We take great care to make sure that your beloved pet is treated as if it were our own.
Pain Management – We take pain relief very seriously. Pain management is critical to your pet's recovery, so we take a proactive approach to ensure that your pet is as comfortable as possible using the most effective medications available.
Ultrasound – We provide ultrasound diagnostics. Ultrasound allows high quality, non- invasive imaging of the abdominal cavity and chest. Many diseases can be accurately diagnosed with ultrasound.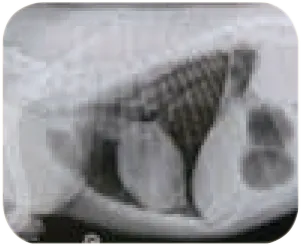 Digital Radiology – Our digital X-ray system quickly produces the highest quality radiographs, allowing our doctors to see fine detail and subtle changes. The time that a pet spends on the X-ray table for imaging is minimal, which means less stress for the patient.
Dermatology – More and more pet owners are seeking veterinary attention for their pets' skin problems, itching, and allergies. Skin problems are a very common occurrence for our pets, and we offer advanced diagnostics and treatment options for skin disorders and allergies.
Ultrasound Technology - Our diagnostics imaging uses non-invasive sound waves to allow doctors to view different body organs. Our veterinary
specialists can examine and evaluate your pet's liver, gallbladder, kidneys, adrenal glands, bladder, stomach, small intestines, pancreas, colon, peritoneum, spleen, lymph nodes, the prostate, and the uterus.
Access to Specialist
We maintain a large network of medical specialists in all fields to provide you the latest in cutting edge treatments and technologies. Your veterinarian may refer you to a specialist, veterinarians who have completed advanced studies in specialties such as internal medicine, surgery, and emergency care, if your pet must undergo a procedure that requires more precise knowledge and experience.